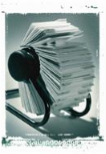 ASSOCIATE MEMBERS are persons, partnership, or corporation engaged in the business of manufacturing and selling supplies and materials to water districts, attorney engaged in the business of representing water districts and other water suppliers, engineers, surveyors, or lending institutions engaged in the business of financing water districts; and other organizations engaged in the business of distributing water to consumers in rural areas. The holder of an Associate Membership does not have voting rights and shall not hold office in the Association. If the Associate member has multiple offices and would like mailings to go to another office as well, the second office may join at a reduced rate to receive the same benefits as the parent office.

ADDITIONAL BENEFITS FOR ASSOCIATE MEMBERS INCLUDE:

Discount on advertising rates in Water Ways
Free advertising in IRWA's "Industry Contact Book"
Link to your website from ours
Discount for members only given on IRWA's Annual Technical Conference
The chance to offer IRWA's members a special discount to promote your product
The opportunity to submit abstract for review for possible presentation at training sessions or conferences.
IRWA ASSOCIATE MEMBERS LISTING
A
A.Y. McDonald Mfg. Co.
Adaptor
Air Diffusion Systems
All Service Contracting Corp.
American Flow Control
American Structures
Apex Pumping Equipment
Aqua Smart, Inc./SeaQuest
AQUAFIX
Aquaflo Technologies, Inc.
Automatic Control Systems
Axton Environmental
B
Badger Meter
Benton & Associates
Berns, Clancy & Associates, PC
Bliss Leak Detection
Brenntag Mid-South, Inc.
Brooks & Associates, Inc.
Brotcke Well and Pump
Bruner, Cooper & Zuck, Inc.

C
C & C Pumps and Supply
C2 Engineers, LLP
Cady Aquastore
Chastain & Associates
Clow Valve
CoBank
Coe Equipment, Inc.
Construction Site Services
Core & Main
Covalen
Crawford, Murphy & Tilly, Inc.
Curry & Associates Engineers, Inc.
D
Dixon Engineering, Inc.
Doering Leasing
Durkin Equipment Co.
E
E-Tank/E-Pump
Earth Tec
Edenbros, LLC
EJ
Electric Controls Co.
Electric Pump
Energenecs, Inc.
Engineered Solutions Midwest
Engineering America, Inc.
Enviro-Line Co., Inc.
Environmental Resources
E.R.T.C.
F
Farnsworth Group, Inc.
Fassett Sales Co.
Fehr Graham
Fischer, Harris & Associates
Fleming, Tawfall & Company, P.C.
Flo-Systems, Inc.
Ford Meter Box Co.
G
G.A. Rich & Sons
Gateway Industruial Power
Giffin Engineering, Inc.
GreenLine Environmental Solutions, LLC
Grosch Irrigation Co.
H
Hawkins Water Treatment Group
Heil20
Heneghan & Associates, P.C.
HMG Engineers
Hoerr Construction, Inc.
Horner & Shifrin, Inc.
Hydro-Kinetics Corp.
I
Illinois Electric Works
Illinois Public Risk Fund
IMCO Utility Supply
Industrial Process Equipment Group
Insituform
IRBY
ISAWWA

J
K
Kaskaskia Springs Water
Key Equipment and Supply Company
Klingner & Associates, P.C.
Kuhn & Trello Consulting Engineers, LLC
Kupferle Foundry Co.
L
LabtronX
LangeTech Inc.
Layne-ChristensenCompany
Leak Detection Services, Inc.
Lee Jensen Sales Co., Inc.
Linden & Company
LOCIS
M
M.E. Simpson Company, Inc.
Machi
Maguire Iron, Inc.
Master Meter, Inc.
Maurer-Stutz, Inc.
McMahon Associates
MECO Engineering Company
MECO-Heneghan Engineers, LLC
Metro-Ag
Metropolitan Industries, Inc.
Midwest Chlorinating & Testing
Midwest Meter, Inc.
Midwest Vac Products, LLC
Milano & Grunloh Engineers, Inc.
MSA Professional Services
Mueller Co.
Municipal Equipment Company
Municipal Well & Pump

N
National Wash Authority
Navionics Research, Inc.


O
P
PDC Laboratories, Inc.
Phoenix Fabricators & Erectors
Pittsburg Tank & Tower Maintenance Co.
Precision Water Lab, LLC
Preferred Tank & Tower Maintenance Division, Inc.
Purple Wave Auction
PVS Minibulk, Inc.
Q
R
R.E. Pedrotti Company, Inc.
Ray Lindsey Co.
Rammelkamp, Bradney, P.C.
Red Flint Sand and Gravel
Ressler & Associates
Rhutasel & Associates, Inc.
Richards Electric Motor Co.

S
S & K Equipment Co.
SCADATA
Schulte Supply
Sequoyah Software & Consulting
Shawnee Professional Services
Shelter Works
Sidener Environmental Services, Inc.
Smith Ecological Systems, Inc.
Smith-Blair, Inc.
Stewart Spreading
Subsurface Solutions
Suez Water Advanced Solutions
Swanson Flo

T
Tarsco Bolted Tank
Teklab
TEST, Inc.
The Cahoy Group
The Leary Construction Co., Inc.
The Sherwin-Williams Company
Thouvenot, Wade & Moerchen, Inc.
Tnemec/Taylor Coatings Sales, Inc.
Trotter & Associates
TT Technologies
U
United Laboratories, Inc.
United Rentals Fluid Systems
United Systems & Software
Universal, Inc.
USA BlueBook
Utility Pipe Sales, Inc.
V
Vandevanter Engineering Co.
Vermeer Midwest
Viking Chemical Company
VMC - The Vegetation Company

W
Water Products Company
Water Solutions Unlimited, Inc.
Water Well Solutions
Waterly Software
Watersurplus
Willett, Hoffman & Associates
WRT
WTR Solutions
Secondary Associate Members
Core & Main
Hawkins, Inc.
Klingner & Associates, P.C.
Midwest Meter, Inc.
RHMG Engineers
Sherwin Williams - Champaign
Vermeer Midwest